---
Looking for a great read or resource? Check out some of these books. We highly recommend them!
'When Justice is the Measure' by Christine MacMillan, Don Posterski & James E. Read
Information on this book here.
Available for purchase from The Trade here.
---
'Jesus & Justice' by The Salvation Army International Social Justice Commission
Jesus and Justice is fantastic book-length study that has been developed by The International Social Justice Commission.
It explores the four principles of Social Justice; including the excluded, challenging cultural practices, confronting the powerful and advocating for the oppressed.
It could be used as a personal bible study, a group bible study, sermon leads or as a book.
More details here.
Available for free download here.
---
'Pursuing Justice' by Ken Wytsma
This book is full of relevant, practical wisdom and is great for anyone interested in our spiritual calling to justice.
You can buy it from Koorong here.
---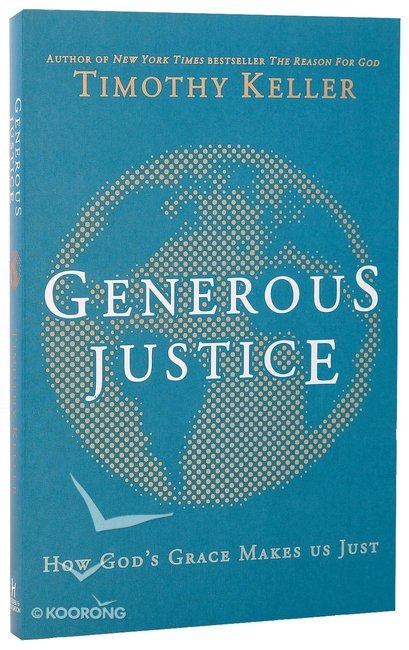 'Generous Justice' by Tim Keller
'Generous Justice' by Tim Keller explains how a concern for justice is essential to the Christian life.
If you are wondering what the bible says about justice and how this applies to you then this book is a great starting point.
The first chapter of this book can be downloaded for free here or can be purchased online.
---
'In Darkest Engaland and The Way Out' by General William Booth
'In Darkest England and the Way Out' by General William Booth was published in 1890, and sets out his blueprint for the welfare system and The Salvation Army's role in it.
Many of The Salvation Army's current programs find their history in this book, and it continues to be very influential on the western Welfare State. It makes great reading – even today – over 100 years after it was first published!
Get your copy at Salvationist Supplies or get the e-book.
---
'NIV God's Justice Holy Bible'
Justice is a core trait of God's character that can be traced throughout the bible from beginning to end. 'God's Justice' bible draws you closer to God's heart for Justice through the help of over 50 Contributors who provide notes, introductions, questions for reflection and prayers to inform, challenge and inspire.
You can buy it from Koorong here.
---
"Slow Kingdom Coming: Practices for Doing Justice, Loving Mercy and Walking Humbly in the World" By Kent Annan.
Kent Annan, co-director of Haiti Partners, understands the struggle of working for justice over the long haul. He confesses, "Over the past twenty years, I've succumbed to various failed shortcuts instead of living the freedom of faithful practices." In this book, he shares practices he has learned that will encourage and help you to keep making a difference in the face of the world's challenging issues – practices to give us strength in the race so that we can run and not grow weary.
All Christians are called to act justly, love mercy and walk humbly in the world. Slow Kingdom Coming will guide and strengthen you on this journey to persevere until God's kingdom comes on earth as it is in heaven.
Slow Kingdom Coming is a good read, full of engaging stories and insights, yet packed with field-tested principles of acting justly in your community. A free study-guide is available from Kent's website, and is flexible enough to do in one week or as many as 8.
Slow Kingdom Coming is available for purchase here
---
'Incarnate' by Michael Frost
Michael Frost's book Incarnate looks at how we, as individuals and as a church community, can be The Body of Christ in an Age of Disengagement.
We recommend this book for both individuals and churches who want to know how to practically move into a flourishing, incarnational faith that will help rebuild and reshape our communities to reflect God's Kingdom.
Frost explores how increasing connectivity in an online world is resulting in increasing disengagement from the people immediately in front of us in our own neighbourhoods, communities and churches.
We live in a world where we can instantaneously connect with anyone, anywhere, anytime; where we can read global news and focus on global issues and where we can access information on just about any subject you could ever think of at the tap of our fingers. But as a result our minds are constantly distracted and find it hard to focus on the here and now.
Frost stresses the need for us to physically reconnect with our local communities:
"…what the world so desperately needs are incarnational servants of Christ to wade into the muck and stench of this world and to partner with the locals, as broken as we all  are, in helping to shape human society as God intended it to be."
The book is available for purchase here.
---
'Take Your Best Shot' by Austin Gutwein (with Todd Hillard)
Take Your Best Shot tells the story of a young guy named Austin who made an incredible difference in the lives of people all over the world. In 2004, at just 9 years old, Austin set out to do something for people dealing with the impacts of HIV and AIDS. Austin used what he loved, playing Basketball, to give hope.
In 2004 Austin decided to shoot free throws, he shot 2,057 free throws to represent the 2,057 kids who would be orphaned during his day at school. Friends and family sponsored him and he was able to raise almost $3,000. That year, the money was used to provide hope to 8 orphan children. Austin went on to create Hoops of Hope which has raised around $4 million. This money has been used to build the only high school in a rural region in Southern Zambia, four dormitories, two medical clinics, two computer laboratories, feeding programs, multiple water projects as well as the funding of a dormitory at an orphanage in Kenya and a school in India.
This book is an easy read for children (toward the end of primary school), teenagers and for adults. At the end of each chapter is a Bible passage and discussion questions which allow the reader to respond to what they read in the chapter and to scripture. It is a great book which is interactive and leaves you feeling inspired.
The book is available for purchase here.